Providing Peace of Mind
We care about the safety and well-being of every camper. Camp Kanuga is one of the nation's longest-running programs accredited by the American Camp Association and exceeds the industry standards for program quality, youth development, education, and safety.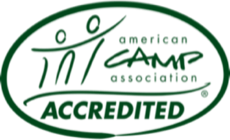 Our camp is a nut-free campus with gluten-free and vegetarian options available by request in the dining hall and on camp-outs.
Each cabin has two counselors per cabin who have current certifications in CPR and first aid.
Our camp nurse and her support staff are all registered nurses. While camp is in session, they are on-site and available 24/7 with a doctor on call. They can do everything from handing out hugs and band-aids to administering medication.
Questions About Kanuga?
View our frequently asked questions page for more information.