Starter Camp
(Rising Grades 2-4)
| Session | Length | Dates |
| --- | --- | --- |
| Starter Camp A | 6-day session | Sun., 6/12 – Fri., 6/17 |
| Starter Camp B | 6-day session | Sun., 6/19 – Fri., 6/24 |
| Starter Camp C | 6-day session | Sun., 6/26 – Fri., 7/1 |
| Starter Camp D | 6-day session | Sun., 7/3 – Fri. 7/8 |
| Starter Camp E | 6-day session | Sun., 7/10 – Fri., 7/15 |
Overnight Camp
(Rising Grades 3-11)
| Session | Length | Dates |
| --- | --- | --- |
| Session 1 | 9-day session | Thurs., 6/2 – Fri., 6/10 |
| Session 2 | 13-day session | Sun., 6/12 – Fri., 6/24 |
| Session 3 | 13-day session | Sun., 6/26 – Fri., 7/8 |
| Session 4 | 13-day session | Sun., 7/10 – Fri., 7/22 |
| Session 5 | 9-day session | Sun., 7/24 – Mon., 8/1 |
| Session 6 | 5-day session | Wed., 8/3 – Sun., 8/7 |
Camp Fee
5 Day: $995
9 Day: $1670
13 Day: $2375
Expeditions
| Expedition | Group | Grade Level | Dates |
| --- | --- | --- | --- |
| Pisgah Expedition | Explorers | 10th-12th Graders | June 12-17 |
| Appalachian Expedition | Explorers | 10th-12th Graders | June 19-24 |
| Pisgah Expedition | Pioneers | 7th-9th Graders | June 26-July 1 |
| Appalachian Expedition | Pioneers | 7th-9th Graders | July 3-8 |
| Trailblazer Expedition | Explorers | 10th-12th Graders | July 10-22 |
Camp Fee
Pisgah Expedition: $1250
Appalachian Expedition: $1250
Trailblazer Expedition: $2375
Day Camp Sessions
| Session | Length | Dates |
| --- | --- | --- |
| Session A | 5-day session | Mon., 6/13 – Fri., 6/17 |
| Session B | 5-day session | Mon., 6/20 – Fri., 6/24 |
| Session C | 5-day session | Mon., 6/27 – Fri., 7/1 |
| Session D | 5-day session | Mon., 7/11 – Fri., 7/15 |
| Session E | 5-day session | Mon., 7/18 – Fri., 7/22 |
| Session F | 5-day session | Mon., 7/25 – Fri., 7/29 |
Leadership Academy
(Rising 11th and 12th graders)
| Session | Length | Dates |
| --- | --- | --- |
| Leadership Academy A | (21 days) | Sun., 6/5 – Fri., 6/24 |
| Leadership Academy B | (21 days) | Sun., 7/3 – Fri., 7/22 |
Stayover Between Sessions
Stayover
Campers can spend the two days between camp sessions taking special excursions. Note Multiple Sessions savings: For either Session 1 & 2 and 5 & 6, $100 off per camper. Must register for Stayover as well. Open to Residential campers.
| Session | Length | Dates |
| --- | --- | --- |
| Sessions 1–2 | 2 days | Fri., 6/10 – Sun., 6/12 |
| Sessions 2–3 | 2 days | Fri., 6/24 – Sun., 6/26 |
| Sessions 3–4 | 2 days | Fri., 7/8 – Sun., 7/10 |
| Sessions 4–5 | 2 days | Fri., 7/22 – Sun., 7/24 |
| Sessions 5-6 | 2 days | Mon., 8/1 – Wed., 8/3 |
More Info
Whether you've decided just one camp session isn't enough, or if you're a parent that has a conflict with your camper's pick-up date, Camp Kanuga's Stayover sessions are the perfect solution! Now with brand-spanking-new programming that offers fun day trips. Even though camp is no longer in session, campers can rest, prepare for what's next and go on adventures with their counselors and camp friends!
Stayover is not only an awesome experience for campers, but it helps out mom or dad with pickup and Camp Kanuga staff takes care of washing your child's laundry.
Special Outings Include:
Registration Process
How to Register
Learn about how to register for a Camp Kanuga program or contact our camp coordinator for more information.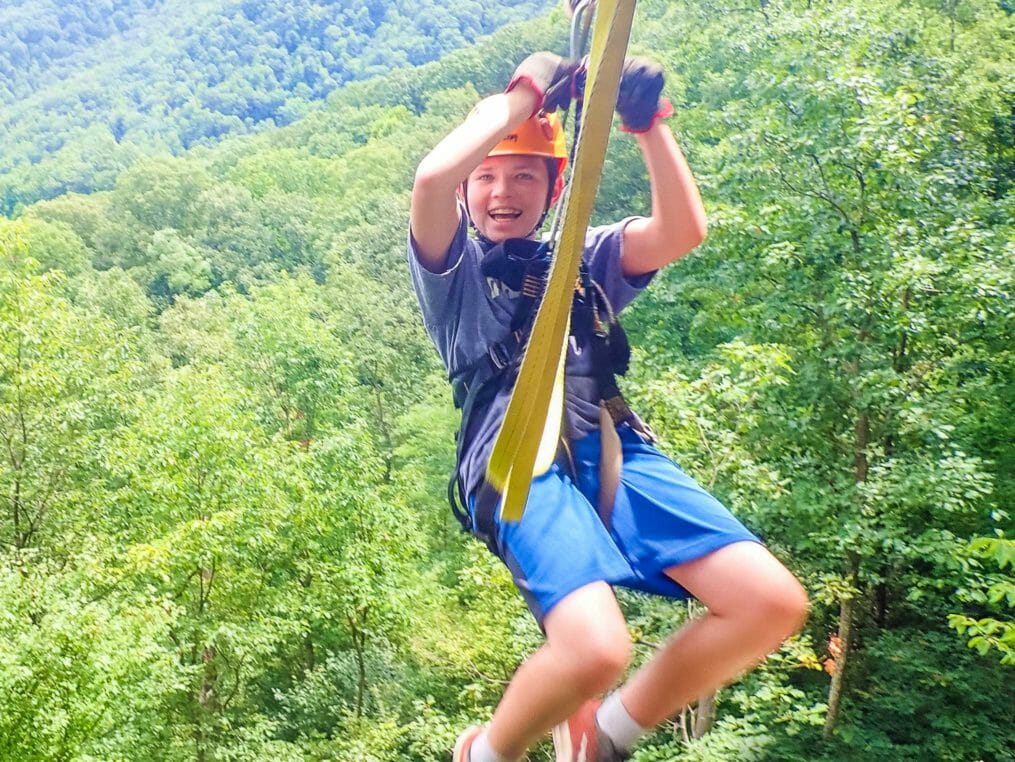 Camper Savings and Scholarships
Camper Savings
Camp Kanuga is committed to offering an excellent summer camp program that is safe, fun and builds Christian community. Over the years, we have done our best to keep the cost of our high-quality staff and program affordable, while the costs to operate and maintain camp have continued to rise. Realizing that families have differing abilities to help offset these increased costs, we are implementing the following Camper Savings.
Early Bird Discount: Register by December 1, 2021 receive $50 (9-day and below), $100 (13-day and greater) off per camper
Multiple Sessions: For either Session 1 & 2 and 5 & 6, $100 off per camper. Must register for Stayover as well.
Sibling Discount:  Sign up one child for a camp session and save $50 for each additional sibling. The discount applies to the lesser tuition(s).
Scholarships
Scholarship funds are available but limited. These scholarships are made available by generous contributions to the Camp Kanuga scholarship program. Additional scholarships are often made available through your congregation. Please apply if you are in genuine need of assistance to send your child(ren) to camp.
To apply for scholarship assistance, download the application and return the completed form, subject line "Scholarships," to campkanuga@kanuga.org or send to:
Camp Kanuga
c/o Scholarships
130 Kanuga Chapel Drive, Hendersonville, NC 28739
Our children love the time they spend there! I always feel safe leaving them with the sweet camp staff, and know they will have an amazing experience!Dawn R.
QUESTIONS FOR US?
Let's Chat!
For information on how to apply please contact our camp coordinator or call 828-233-2744.