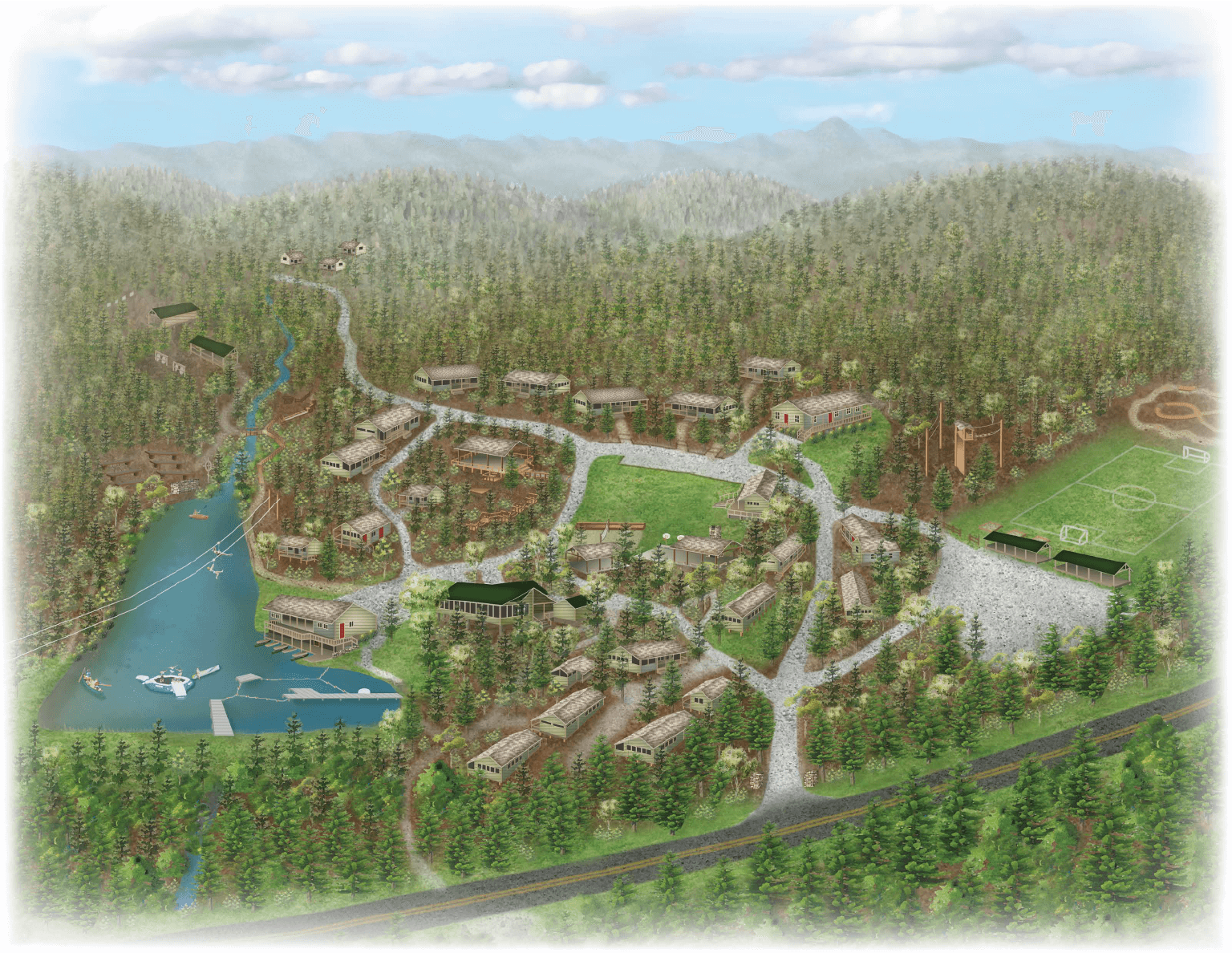 Welcome to Camp Kanuga
How to Explore
Drag the map up, down, left and right to see our entire campus!
Zoom in and out using the buttons or your scroll mechanism.
Click on a location on the map or in the legend to learn more.
Close
Fox Pavilion & Arts Center
3,680 sq. ft.
Lakeside
Decks on both floors facing the lake
Main floor offers open space with a small stage, fireplace, 2 restrooms, and 2 additional rooms.
Downstairs is home to our arts and crafts programs offering wood-shop, leather making, pottery and more.
Close
Dining Hall
3,842 sq. ft.
Screened in building with full kitchen and capacity to seat up to 200+
Sound system
Hand-washing stations front and back of building
2 restrooms
Close
Paved Rec
2,200 sq. ft.
Covered pavilion with concrete floor and some bench-style seating
Fireplace
2 Basketball Courts
Close
Floored Rec
1,280 sq. ft.
Covered pavilion with hardwood floor, small stage, and some storage
Close
Office / CK Outfitters
This building contains the camp coordinator's office, restroom, mail-room, and camp store
Large wrap-around deck with bench-type and Adirondack seating
Close
Infirmary
2,016 sq ft.
3 patient rooms with 2 single beds each
3 restrooms with showers
Kitchen
Treatment room with restroom and storage closet
Living area for camp nurse includes bedroom and common room
Close
Outdoor Chapel
Surrounded by a mixture of pine and hardwood trees with views of the sky and lake, the Lakeside Chapel allows campers to experience God and creation in classic Camp Kanuga tradition.
Close
Zipline
Double zip
Race your friend
600 feet
Travels from the entry tower, over the lake, to the landing zone.
Close
Bike Course
3 trails
Bike barn for bike storage, repair, and how-to-clinics
10-piece pump track
Close
Blacksmith Shop
Fully working shop includes 3 forges and 6 anvils.
Close
Low Elements
Low ropes challenge course excellent for team building
4 elements which also include a 360 degree whale-watch and zip-line
Communication skills
Group bonding
Close
Gem Mine
Authentic gem mine with water tower, sluice for gems and minerals, and mine shaft for storage
Each participant receives a bucket of sand and gems and minerals for panning.
Close
Archery
360 sq. ft.
Open air pavilion with storage for archery equipment.
4 targets
Custom built range
Close
Leader's Cabins
5 (2-4) bed screened-in cabins with attached restrooms located lakeside, mid-camp, and in both Girl's and Boy's Villages
Close
Girl's Village
6 screened-in roomy cabins sleeps 16 campers and 2 counselors
Attached restrooms with showers
Close
Naturalist Hut
Home for nature programming
Houses local, native animals for the season such as turtles and snakes, guidebooks, educational posters and native wildflowers (summer only)
Close
Chalet
Seasonal Staff headquarters and lounge
Close
Boy's Village
6 screened-in roomy cabins sleeps 16 campers and 2 counselors
Attached restrooms with showers
Close
Meg's Expedition Outpost
4 sleeping shelters
2 community shelters
Shower house
Large fire ring
Creek
Vast trail system
Running water
Close
Climbing Wall & Giant Swing
Climbing Wall
50 ft. high
2 routes
2 climbers at a time
Bouldering wall to the side
Team haul giant swing at height of participant choice
Giant Swing
10 to 35 ft. high
Harnessed in
Swing by height of choice
About 45 second swing
Close
Bowen Field
Regulation soccer field also used for outdoor games and sports
Adjoins gardening program and mountain biking program
Close